In the Merriam-Webster dictionary an alter ego is defined as being a 'different version of yourself', or another side to our personality. It can be so free to act out another side of ourselves, whether it helps us externalise emotions that may be challenging to process at a conscious level, or it just provides a great sense of joy. I often ask people what it was that they enjoyed doing as a child, then to imagine if they could do this as an adult. Even if for 10 minutes a day or half an hour a week.
Why do we have to give up make believe and the joyful imagination that children enjoy, as we mature? We don't really.
As creatives we have so many opportunities to share who we are in different ways through our self expression; via different personas as an actor, through the written word as a writer, through moving pictures as a filmmaker, or through images and photographs as a visual artist – to name just a few.
Emma Magenta is a prolific artist, writer, published author and filmmaker. She has also developed her own alter ego and often works across several creative projects. One of her latest projects has been to bring the work of her 2D character into the 3D world, with 'The Gradual Demise of Phillipa Finch' now an ABC animated series, narrated by award winning Australian actress Toni Collette.
Here is a video review by Angie, youtube vlogger from Epic Fehl Reader discussing Emma's excellent book series.
Emma has also spoken at TEDx Canberra about the world of feelings:
Emma Magenta began her career drawing and writing her thoughts down on brown paper bags while working at Berkelouw Books in Sydney. After pinning them to the front window on busy Oxford Street, they accrued a cult status and an International publishing deal was offered to her.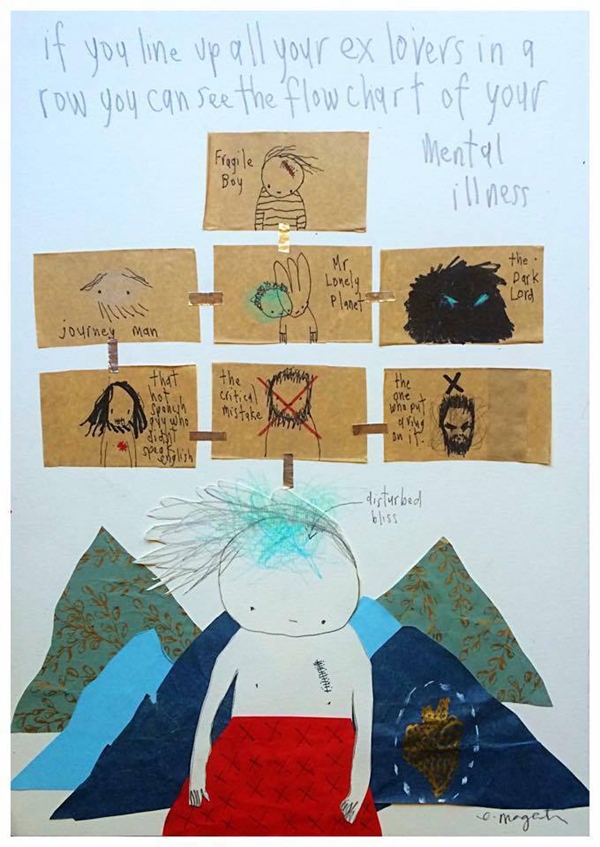 We are beyond thrilled to be featuring Emma at our upcoming Creative Mama Evening Talk, 'The Uncensored Self' on Tuesday 8 November. Emma will discuss her creative process and accessing different parts of the brain to constantly evolve her creativity in the face of the many roles of mother, wife, writer, artist and filmmaker as well as athlete. She will be discussing her creative device of utilising alter egos to explore untapped aspects of her psyche and push creative boundaries.
She is a true creative force and to hear her speak in person will be an absolute highlight of this year's Mama Creatives calendar of events. This will also be the final evening talk in this series for 2016. Come and join us for dinner and drinks in the company of other creative mamas.